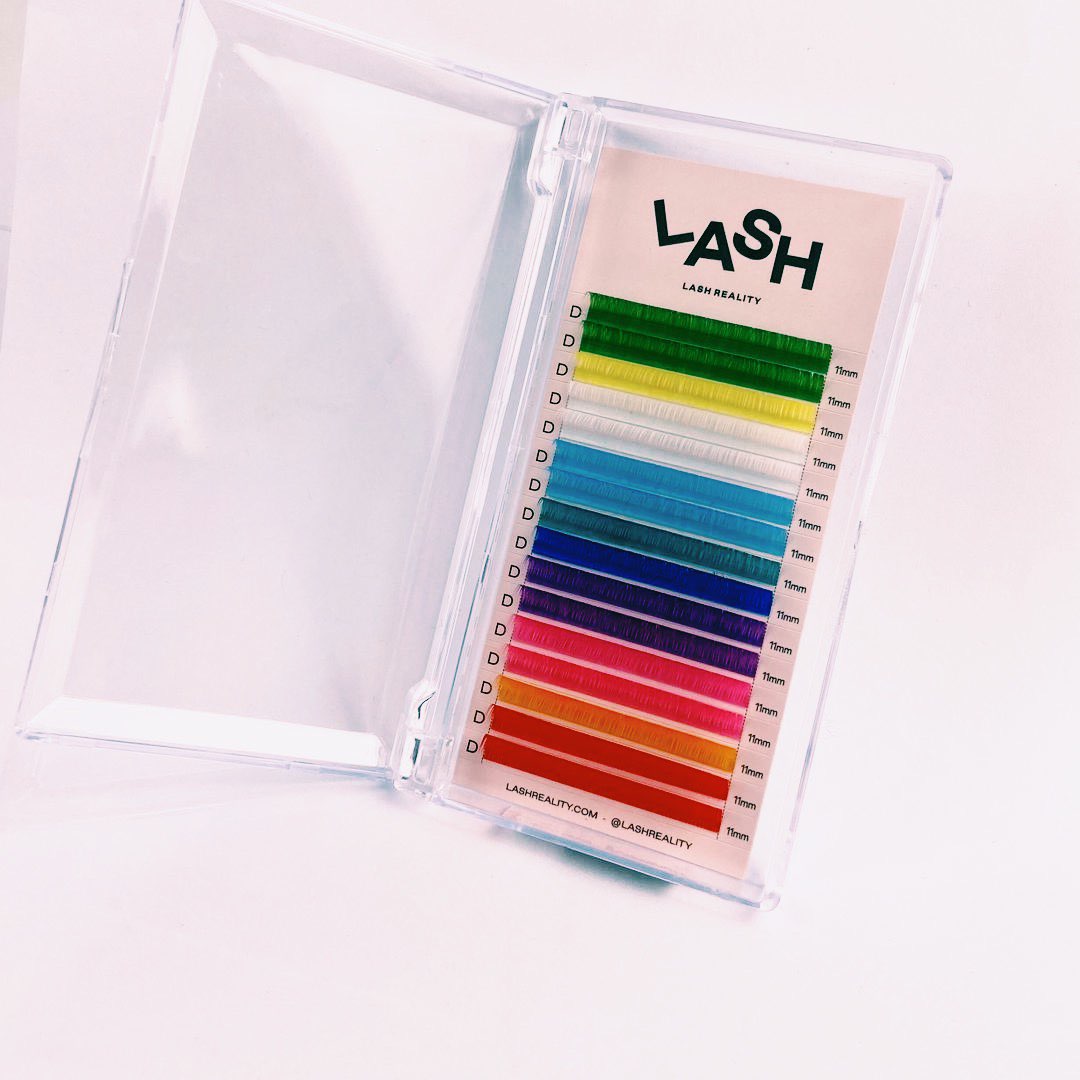 · By Carlee Workman
5 Lash Extension Trends to Try This Summer
The lash world is constantly evolving, and new trends come and go.
The past two years have been especially interesting because of the impact of the pandemic. There's no need to wear flawless foundation or colorful lipsticks when half your face is covered! With not much real estate left to experiment with, all the glamour and focus has shifted to the eyes.
This shift has led to some exciting innovations in the lash world, and honestly, we're here for it! If you're looking to make a statement this summer, try these 5 lash extensions trends: 
Credit: @hair.lashes.brittany on Instagram
1) Colored lashes
One of the best things about warmer weather is all the bright colors. Now, there's an extra way to add a pop to your summer outfits. Colored lash extensions are the perfect accent to create a truly captivating lash look. Using color theory, you can also find a shade that will compliment your natural eyes even more.  
We're so excited to announce the newest member to the Lash Reality lineup: the Rainbow Classic Lash Tray! These lashes come in a variety of curls and lengths, so you can create any colored set of your dreams. Just in time for festival season! We're expecting these to sell out FAST, so be sure to get them before they're gone: Rainbow Classic Lash Tray. 
Credit: @glitzlashstudio on Instagram
2) Wet look
The wet look has taken the beauty world by storm! From "glass skin" to the fresh-out-the-ocean red carpet looks, it's no surprise we're seeing this dewy trend transfer over to the lash scene. 
Though the trend first appeared in 2019, it's no longer something only worn by the bold. Everyday lash wearers are requesting this style for its fresh and sexy look. As the name implies, this style is meant to mimic the spikes that happen when lashes are dipped in water.
The wet lash look is created using a hybrid technique, which has also gained popularity in recent years. These sets use a combination of classic and volume techniques, meaning some lashes have a single extension applied to them, while others have multiple extensions to one natural lash. The main differentiator with the wet lash look from other hybrid sets is that the wet look uses closed fans. So rather than pinching your fans to create a narrow or wide base, you want to keep it closed to create a dense spike. 
Credit: @beautywithirene_ on Instagram
3) Brown lash extensions
While some are choosing to be more adventurous with their lash looks, there's also a flip side to that coin. The "nearly-natural" sets are super trendy for 2022! Many lash wearers are retiring the pitch-black lash lines and opting for dark or medium browns instead. 
Paired with a classic set technique, brown extensions can give that woke-up-like-this feel. This style looks especially good on lighter skin tones or people who have light natural hair. Because their lashes don't grow in black, choosing brown extensions can enhance the eyes without looking over the top. A must-try for the natural girls.
Credit: @eyelashmedia on Instagram
4) Textured sets
It's all about texture in 2022! No more perfectly symmetrical sets. Instead, clients are seeking ultra-fluffy, layered looks. Textured sets can range from wispy to mega voluminous – it's more about how the sets are applied. To create this, artists need to mix curl types and length in a layered fashion. That's right – separating the top, middle, and bottom rows of lashes!
It might come as a surprise if you've never inspected lashes up close, but they do not grow in a straight line. Like other hair follicles, our lash lines have rows. These rows can be separated when applying lash extensions and can contribute to getting that textured look. 
Credit: @_crownlash on Instagram
5) Extra long
Today's lash lovers want length! The Russian mega-volume sets of 2016 are no longer the head honcho, and there's a new girl is in town. More clients are opting for length-centric sets, and we've seen some lash extensions as long as 25 mm! Just remember, natural lash health is the #1 priority. Lash artists must consider how much weight a natural lash can handle. If an extension is too heavy, you risk damaging or breaking off the lash. Give them length, but always keep it safe! ;) 
Have any additional questions? We're happy to help! You can
contact us
here. We also recommend checking out our
must-have products
for lash extension supplies. You can also follow us on
Facebook
and
Instagram
to stay up-to-date on the latest Lash Reality news and products.