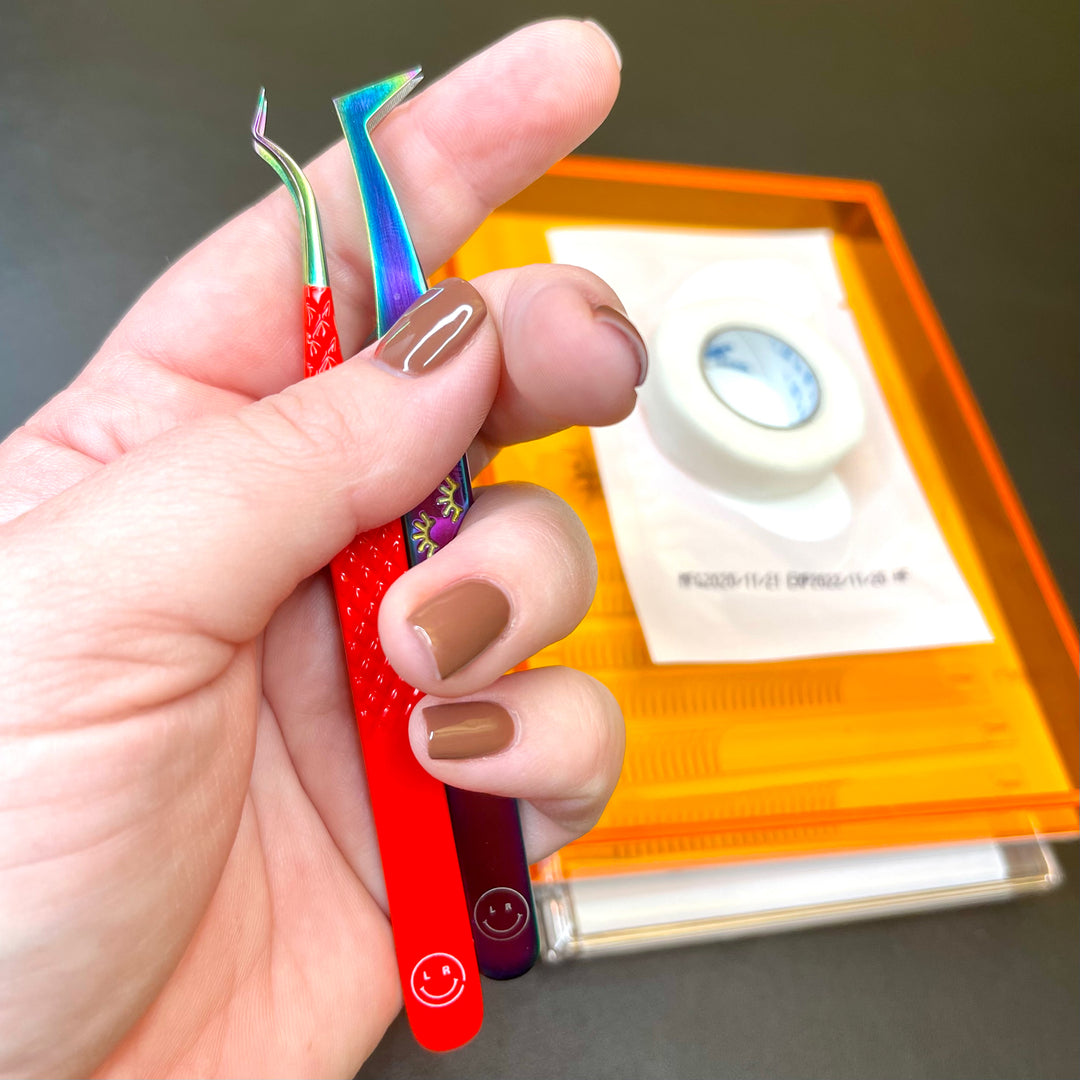 · By Carlee Workman
Buyer's Guide to Lash Tweezers
Ever heard the saying, "A man is only as good as his tools?" 
Well, whoever said it must've been referring to lash tweezers. These are the #1 most important tool for any lash artist. You'll use them for pretty much every step of your set, which is why finding the perfect pair is crucial! 
There are tons of lash tweezers on the market in all shapes and sizes. And truthfully, no tweezer is one-size-fits-all. Every artist has their preference on grip, weight, and how the tweezers work with their own technique. 
If you're looking for the best tweezers for lash extensions, Lash Reality is here to help. 
Types of Lash Tweezers
Generally speaking, lash tweezers can be broken down into 3 broad categories:
Straight
Straight tweezers sound exactly like what you'd expect. Most people are probably familiar with pointed slant tweezers, the type used for plucking eyebrows and such. These tweezers would fall under the "straight" category. Along with these, there are also pointed straight tweezers and more uncommon, rounded straight tweezers. 
Straight tweezers are best for classic sets and isolation. This is because they are incredibly precise and ideal for picking up individual lashes. The pin-point tip also helps when trying to separate tricky lashes. 
Boot
Boot or L-shaped tweezers have tips that –as the name implies– make an L-shape. These types of lash tweezers are ideal for handmade volume fans.
All boot tweezers are not the same, though! Some are thicker than others. For example, our best-selling Orange Twiggy Boot is a skinny boot style, while Butter-Fly Boot has a wider surface area. Both come with their unique advantages! The skinny boots offer excellent precision and are easy to get right to the base of lashes when you're pinching. Thicker boots because of their wider tip can handle larger fans and are great for novice artists. 
Curved
Curved lash tweezers are another great choice for volume sets. This type can be used for isolation or picking up and attaching volume fans. The unique shape makes them especially great for using on clients with tricky lash lines or deep-set eyes. 
How to Find the Best Lash Tweezers
When looking for the best lash tweezers, make sure to be on the lookout for these attributes: 
1) Great grip
Lashes can be as thin as .02 mm in diameter, meaning you need something that can grip the finest material possible. Having excellent grip is a non-negotiable for lashing because you need to ensure the lashes won't slip and fall off the tweezer during a set.
2) Doesn't hurt your hand
You'll be opening and closing your lash tweezers for hours a day. If they have too much tension, you're bound to get hand cramps, and long term, this isn't sustainable. I talk more about self-care as a lash artist in my post, 3 Things I Wish I Knew Before Becoming a Lash Artist.  
Lash tweezers have to feel comfortable in your hands and that means finding the right balance of tension. Of course, this is hard to try out without purchasing first, but read reviews and get a feel for what other professional lash artists think! 
3) High-quality metal
Your tools need to be sanitized after every client. This means you need a tool that can withstand frequent cleanings. High-quality materials will also ensure the tip doesn't dull or the grip doesn't loosen up too quickly. Most commonly, lash tweezers are made from two materials: stainless steel or titanium. 
Stainless steel is resistant to rust and sturdy, which is why many lash extension suppliers use it as their material of choice. Titanium is similar but much lighter than stainless steel. So if weight is a priority for you, it might be worthwhile investing in titanium tweezers. 
Which tweezers for classic sets?
We recommend using straight tweezers for classic sets, though curved lash tweezers can also help get into all those hard-to-reach spots. Our favorite lash tweezers for classic sets are: 
Which tweezers for volume sets?
We recommend using a boot tweezer for handmade volume fans or premade volume fans. Some of our top selling lash tweezers for volume sets include: 
How to Get the Most from Your Tweezers
Tweezers are a delicate tool and should be treated with care! Here are our tips for getting the most from your lash tweezers: 
Be gentle.

Lash artists know the heartbreak of dropping and ruining their favorite pair of tweezers. The tips of the tweezer are very delicate and can dent or bend easily. Because of this, they should not be tapped on hard surfaces. 

Store them properly.

When you're not using them, lash tweezers should always be stored in an enclosed case. This prevents them from building up dust and debris. 

Clean as directed.

Always use disinfectants as directed. Do not soak them longer than needed as that can wear away the finish and potentially damage them. 

Remove any adhesive.

If glue gets on your tools, clean them immediately to prevent buildup.

Do not use the same pair of tweezers for thinner lashes as you do for thicker lashes.

Over time, your tweezers will get too loose to pick up fine lashes. 
How to Clean Lash Tweezers
Most lash artists use Barbicide to sanitize their tools. Always use disinfectants as advised on the bottle. Do not soak tools longer than needed as that can damage them. For more information, see our lash safety and sanitation guide here. 
Have any more questions? We're happy to help!
Contact us here
. We'd also love for you to follow us on
Facebook
,
Instagram
, and
TikTok
to stay up-to-date on the latest Lash Reality news and products.